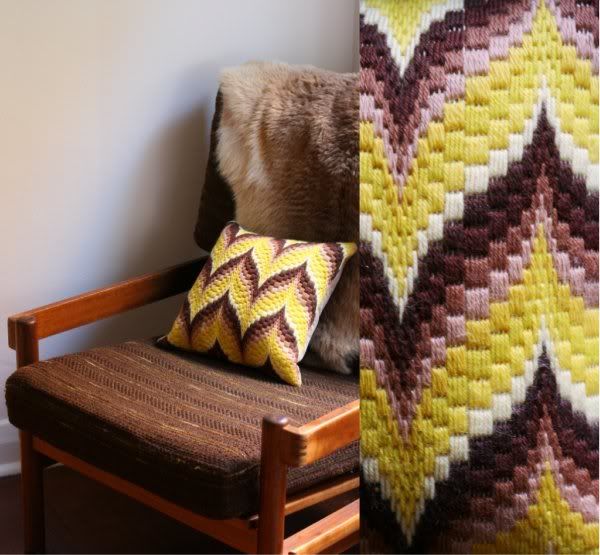 I picked up this little piece of Florentine stitched canvas (also called Bargello stitch) from the Camberwell market month and months ago, with the intention of making it into a cushion.
Finally found a few minutes today to sew it together and have even photographed a little tutorial...I hope it's easy to follow
Materials:
Tapestry/embroidered canvas
Zip (slightly longer than width of pillow, I've used and invisible one because that's what I had on hand)
Heavy weight fabric (corduroy or velvet is ideal)
Thread, sewing machine, scissors
1. Cut your backing fabric an extra 2" larger than your tapestry in height and 3" in width to allow for insertion of zip and covering flap
2. Cut your backing fabric down the middle, this is where the zip will go.
3 & 4. Using a zipper foot, sew the zip onto each half of the fabric.
5. The zip should be longer than the fabric (I'm no zip expert so have just managed to do a passable job)
6. Create a little flap to cover the zipper, press in place and top stitch along the dotted line shown. (be careful not to sew over the zip like i did, doh!)
7. Open your zip about halfway, double stitch over both the ends.
8. Trim the canvas on your tapestry to about 1" around. Lay the right sides of the back and front together and sew around the the edge of the tapestry. Try to sew just inside the edge of the stitched work so you don't see the bare canvas when you turn inside out.
I've over-locked (serged) the edge as well for neatness and extra strength
9. Slide your zip down fully and turn. Insert cushion insert, zip up and you're done!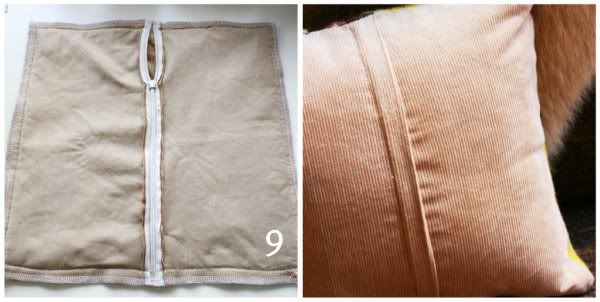 Please leave a comment if you have any questions