Here are some pictures of my finished quilt...one last big push yesterday whilst Emma was at mum's did the trick.
..Some more details below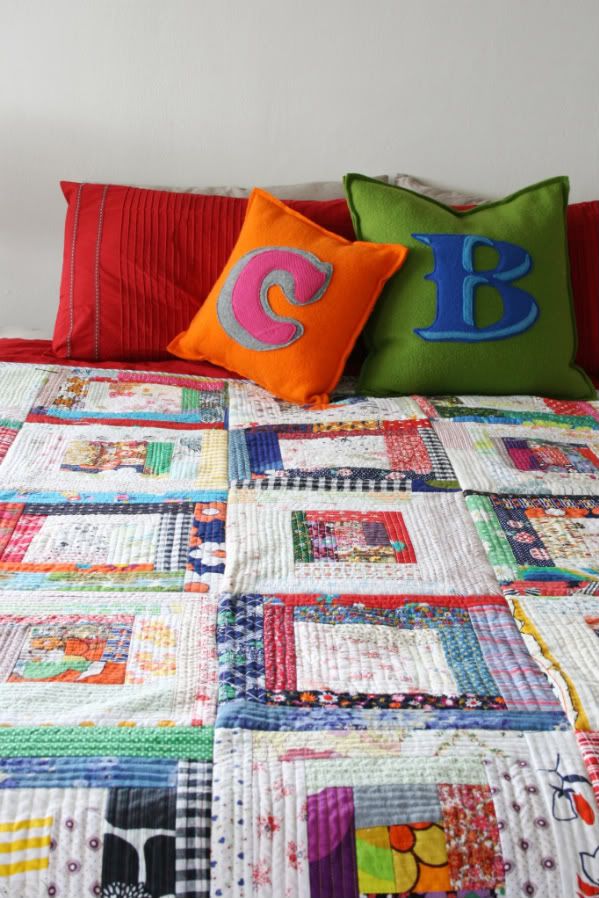 Project based on a Quilt from Japanese Craft Book - Patchwork Style ISBN 978-1-59030-649-9
Started December 2009- Finished September 2010
Essentially 30 squares of batting quilted individual in a log cabin style then joined together. The back is then attached to the front by stitch in the ditch on the seams that join the large squares.
Materials : Bamboo batting, vintage fabric scraps and remnants including cottons and some linen
'Quilt as you go' was appealing to me because I could work on the quilt in stolen moments whilst Emma slept. The only thing that I found difficult was when the pieces were joined the batting in the seams was bulky (even after pressing) this made the finished quilt look a bit lumpy. I basted the backing fabric on rather than pinning because the pins wouldn't sit flat on some of the joined sections.
I haven't made a quilt of this size before and I probably won't for a long time, I was really over it by the end. I was originally going to bind with red fabric but then couldn't face cutting all that binding, so just used the striped binding I had lying around from bib making.
Size wise it sits nicely on the top of my King size bed but would tuck in nicely on a single.
Feel free to ask me any questions you may have...